Keep scrolling down to find our:
COVID-19 update
Irish Food Writers' Guild Award News
Fairtrade Fortnight wrap-up
Mothers' Day DIY truffle recipe (plus details on lockdown ingredients promotion)
COVID-19 update – Our family is in lockdown, but as our chocolate factory is in a unit at the back of our home I am able to continue making and shipping chocolate, but all hands-on workshops are cancelled until further notice.  We are all following the advised precautions of social distancing, lots of hand washing and wearing masks while wrapping.
In the meantime, I will be filming a series of short videos centred on cocoa and chocolate making to add to the movement online of knowledge sharing which you can see on our social media or via the web site – link here.  May we all strengthen connections and creativity during these trying times, our thoughts are with the frail and isolated.   Reaching out with digital hugs.  Allison
This is what was read out on the day before I received the award:

"Canadian-born chocolatier Allison Roberts and her husband Justin arrived in Clonakilty in West Cork, 'blown by summer winds', she says, in 2008. Since then, by dint of her dedication to her craft, her Exploding Tree brand of chocolate has become famous for its ethical and environmental standards. Committed to crafting with only 100% Fairtrade cocoa and coconut sugar, almost ten years ago Allison also made the somewhat painstaking switch to buying only 100% biodegradable, low-carbon and sustainably manufactured packaging. Today, she is proud to only use packaging that can be composted or recycled. Their new range of bars uses an outer sleeve made from post-agricultural waste and an inner sleeve made from plant-based cellulose, while the boxes are made from post- consumer recycled card. Allison is happy to share her knowledge in this area for anyone who is working to implement a similar sustainable solution. Exploding Tree also does its best to keep its carbon footprint down. Nobody flies when overland travel or a ferry is an option, which means overseas trade shows are generally out, and both the business and family choose not to have a car: all their deliveries are made by bicycle or post."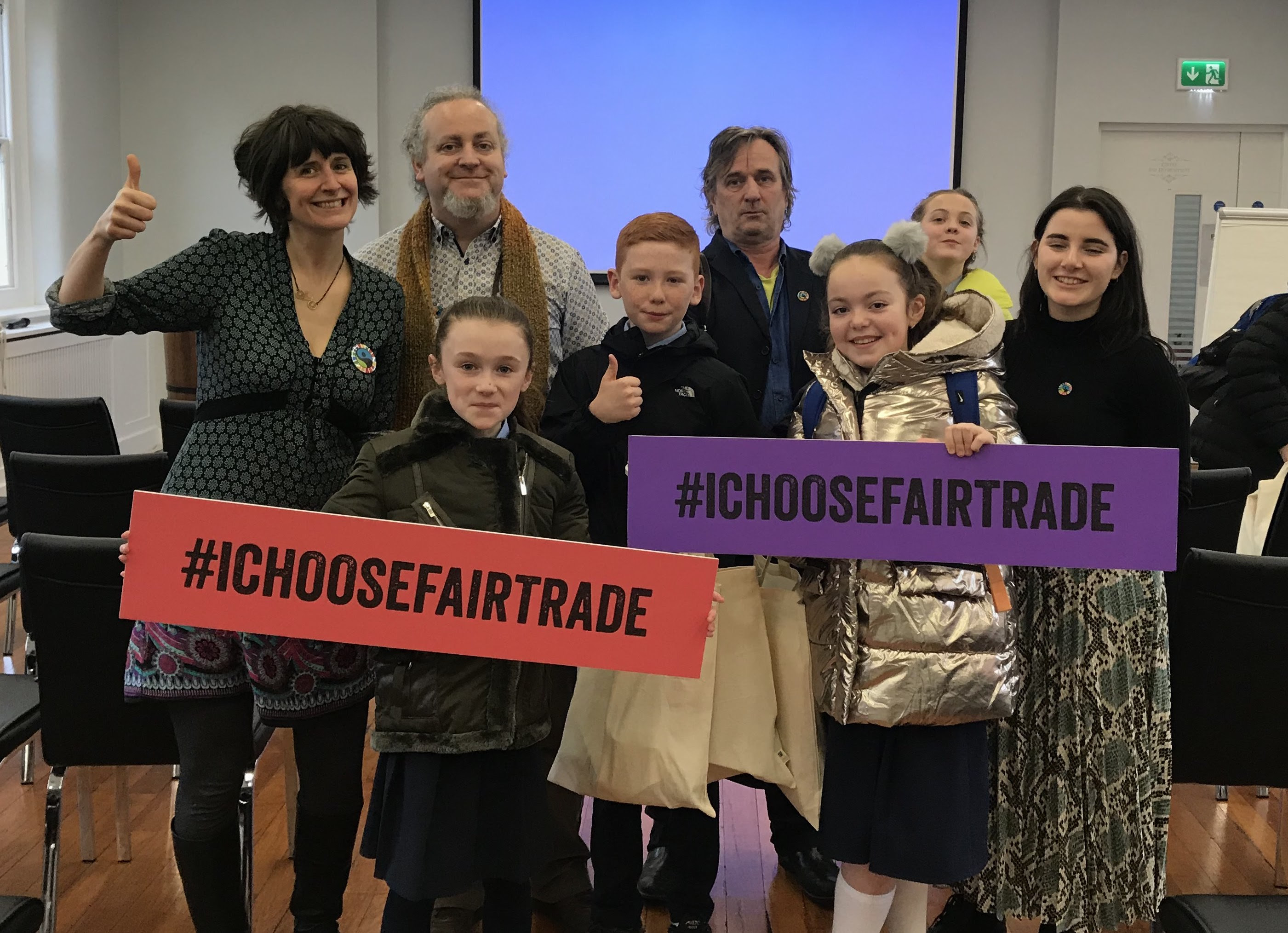 Fairtrade Fortnight – Feb/Mar 2020
Last month we had 2 weeks of amazing workshops in schools and community spaces around the country celebrating cocoa as 'food of the gods' while educating on the grim reality of the industry:
Farmers in West Africa; in Ghana and the Ivory Coast, grow 70% of the world's cocoa. The industry in this part of the world was developed to take advantage of slave and child labour, and young people are still smuggled across borders, forced to work with no contact with their families and no access to the basics, running water, education, healthcare, there are still over 30,000 slaves in the chocolate industry in West Africa as documented by the WHO, these are just the facts. Chocolate is something we love in Ireland, we are the 3rd largest consumers per capita in the world, it is a luxury and something we often give as gifts to show our gratitude and love. It only makes sense that it shouldn't be rooted in injustice. This isn't about buying any particular brand of chocolate, but about asking all chocolate makers to join in the movement to create '100% slave free chocolate'. A movement coined by radical chocolate brand Tony Chocoloney, check them out they are transforming the industry.
Mothers' Day Truffles
Mothers' Day is this weekend, and amid all the Corona Virus chaos some of ye might be spending more time with your mum.  If so, why not take the lock down as an opportunity to make your own truffles from scratch?  Below is the recipe executive chef Gareth Mullins designed with our 75% cooking chocolate for the Irish Food Writer's Guild Awards lunch.
If you can't spend time with your mum we can also send her a batch of truffles directly (link to truffles)… all of our cooking chocolate and ingredients will be discounted for the duration of the lock down, so get creative. (link to ingredients here)
Exploding Tree Chocolate Truffles
Makes 25–30300ml double cream
knob of butter
300g Exploding Tree chocolate, at least 70% cocoa, finely chopped
pinch of salt
splash of whiskey
3 tbsp cocoa powderDirections: Pour the cream into a heavy-based pan set over a medium heat. Bring to a simmer – don't let it boil – then add the butter.Put the chocolate in a heatproof bowl, then pour over the hot cream mixture, whisking until the chocolate melts. Add a pinch of salt, then stir in the whiskey. Once the ganache is smooth, pour into a clean bowl and place in the fridge to chill for 2 hours.Place the cocoa powder in a shallow bowl. Using a parisienne scoop (or teaspoon!) briefly dipped in just-boiled water, scoop out balls of the firm chocolate, aiming for about 20g each, then roll in the cocoa powder.
Recipe created for the Irish Food Writers' Guild Food Awards 2020 by executive chef Gareth Mullins of the Marker Hotel, Grand Canal Square, Docklands, Dublin 2.
My first attempt at a COVID-19 lock down video!  Would love to hear your thoughts and questions.  I am planning a small series going from bean to bar and delving into cocoa ethics and history.  (Apologies for quietness, I'll look into that!)
More about our recent rebrand….
Our new brand Exploding Tree isn't new to us at all!  It is actually the original name we had for our chocolate business when we came to Ireland from Australia 12 years ago!  The name's origin is Exploding Tree Records – a name is still in use by Justin (my co-director musician husband)!
In the past 12 years I have grown through the brand Clonakilty Chocolate as first a chocolatier and now a bean-to-bar chocolate maker.  Now that we are Europe's smallest and most alternative chocolate factory, and with our bars travelling further than ever with web orders headed to all corners of the world, the brand Exploding Tree better represents what we do.
I am passionate that my business continue to represent our value.  To help in some way to address some of the issues facing us today.  From social justice, to biodegradable packaging to healthier alternatives to white sugar, and especially celebrating Theobroma Cacao 'The Food of the Gods' the humble cocoa bean, the name Exploding Tree reminds me of my passion and hopefully communicates to my customers a bit more of what we are all about.
Until next time,
Allison & the Exploding Tree gang